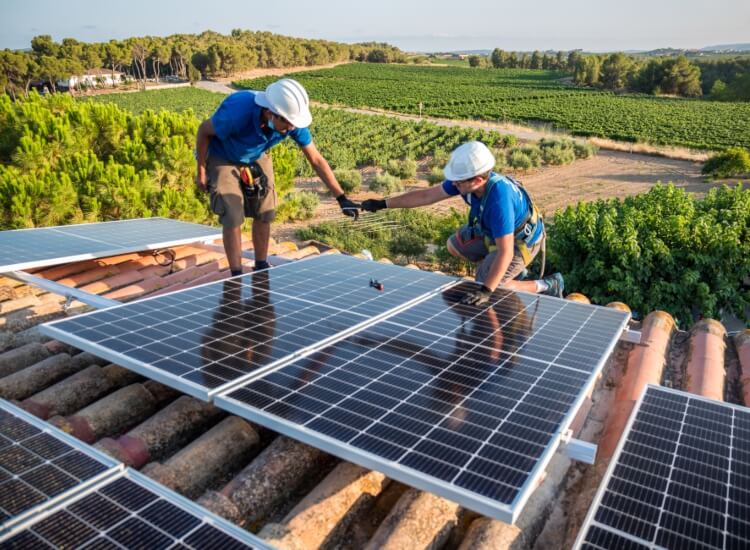 Rooftop solar has been growing a lot in recent years. Everyone seems to want energy savings with solar. But is it worth installing at your New Jersey home? If your roof gets enough sunlight, the answer is probably yes.
High Energy Costs
There are only 15 states that let you choose your electric company, and New Jersey is one. Despite this, New Jersey still has very high energy costs. In February 2022, electricity in New Jersey cost 15.77 cents per kWh, the 12th highest in the nation, according to ChooseEnergy.com. This high cost makes buying solar panels an attractive prospect.
Solar Incentives in NJ
In 2021, New Jersey implemented a new incentive program to encourage homeowners to install new solar panels, as part of the governor's goal to make the state's energy 100% clean by the year 2050. The program includes two main components. From the state's website, those components are:
The Administratively Determined Incentive (ADI) – a fixed incentive payment for net metered solar projects of 5 MW or less – including all residential customers and most commercial and industrial buildings – and all community solar installations. The incentive value will vary based on project type and size, and will be guaranteed for a term of 15 years.
The Competitive Solar Incentive (CSI) – a competitive solicitation designed to incentivize the lowest financial contribution from ratepayers for grid supply projects and net metered commercial and industrial projects larger than 5 MW. The first competitive process is anticipated to launch in early-to-mid 2022, following additional stakeholder engagement throughout this summer and fall.
On top of this, you will also be eligible for a federal tax credit. According to energy.gov, the incentive "initially offered a 26% tax credit for systems installed between 2020 and 2022." However, there's great news: the ITC has now been enhanced, providing a 30% tax credit for systems installed in tax years 2022 through 2032. When deliberating the installation of solar panels, consider the significant impact of a 26% to 30% discount on your decision-making process.
Add It Up
With this federal tax credit accounted for, the average cost of installation is around $12,000 according to Consumer Affairs. And according to EnergySage.com, NJ residents spend an average of $2,129 per year on electricity. That means your investment starts to pay off in well under six years.
Sun Exposure
Before deciding to install solar panels, make sure you can get enough sun to make it work. New Jersey residents need good exposure to the southern sky. This may require trimming some tree branches.
At InfinityEnergy, we're proud to have built a team of trained, in-house professionals devoted to bringing affordable and clean energy to the Northeast. We help homeowners save money each month, with the best solar energy system available while making a better tomorrow for us all. And with our advanced in-home monitoring controls, A+ warranty, and exceptional service, our customers know they're getting the best in the industry. Based in Mahwah, New Jersey we service Northern New Jersey, Hudson Valley, NY and Connecticut. Feel free to get in touch with your questions or contact us for your free quote!
Explore Solar For Your Home!