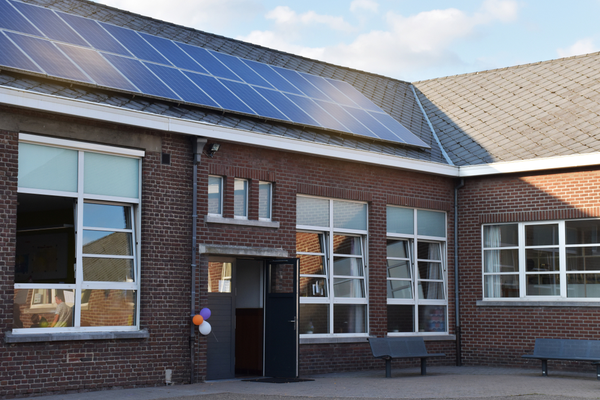 Administrators often have several questions when considering solar panels for schools and universities in New Jersey. This year, more than 1 million students will return to New Jersey schools, requiring large amounts of electrical power. After all, these buildings use massive volumes of energy for lighting, cooling, ventilation, and heating. If you are a principal or superintendent looking to reduce utility costs in your building, solar panels may be a great option to consider. Of course, school's enormous, flat rooftops make them ideal candidates for NJ solar panel installation. At the same time, their open, shade-free parking lots are the perfect spot for a solar canopy. To help you sustainably make the switch to green energy, read on to learn about solar panels for schools New Jersey.
How Will Solar Panels Impact Operating Costs?
First and foremost, consider how solar panels for NJ schools will impact your operating costs. Volatile electricity costs make it incredibly for educational institutes to effectively budget and financially plan for the future. Of course, solar panels provide a better, more effective way to take control of your building's utility costs. After all, rooftop solar systems allow you to autonomously generate power your facility. Even more, large, flat buildings, such as K-12 schools and college universities can benefit the most from installing sustainable solar equipment. Certainly, these buildings possess the structural capacity to support much larger solar arrays. If you are looking to lower your facility's operational expenses and enrollment costs, consider the financial benefits of solar panel for schools New Jersey.
Can Solar Panels Improve Education Opportunities?
Next, you may be wondering if solar panels for schools NJ can improve the quality of your educational outcomes. Solar equipment can have an immense impact on student education, learning, and knowledge. Set up an interactive solar monitoring system in congregational, social spaces in your school. Here, students can visualize performance data to understand, measure, and track how much energy is being generated. Simultaneously, you can utilize these units to monitor how much your school is saving. You can even encourage students to conduct research projects on solar trends and average panel output. Naturally, this will strengthen problem-solving skills and provide real-world examples of classroom studies. Surely, it is important to determine how solar panels for schools New Jersey can improve educational opportunities and outcomes for students.
Are There Community Benefits Of Solar Power?
Now, you are ready to learn about the community benefits of NJ industrial solar panels for schools. K-12 schools and universities are an integral aspect of their community. Of course, these facilities provide a center for students to learn, grow, and develop. By pursuing solar energy, you set a good example for the rest of your community neighbors to follow. In the long-term, solar panels will significantly decrease your school's operating costs and expenses. Therefore, you will have more money to invest back into community improvement programs and extra-curricular educational opportunities. Indeed, familiarize yourself with the multiple community benefits of solar panels for schools NJ.
What Are The Requirements For Solar Installs?
At this point, it is time to familiarize yourself with the stringent requirements for solar panel installs for schools New Jersey. Since they work with electrical utilities, there are municipal and state compliance regulations that must be met before your system can be turned on. Fortunately, experienced contractors for NJ solar schools will help you design a system in accordance with building codes, incentives, and municipal regulations. This way, you can quickly, professionally, and sustainable design a rooftop solar power system for your school. Absolutely, it is important to learn about the strict requirements on solar panels for schools NJ.
How Do I Get Solar Panels Installed?
Of course, you may be wondering how to purchase panels and transition to a solar school NJ. Start off by finding an experienced solar contractor to design, install, and monitor your system. To find a local professional in you area, search major terms like "commercial solar panel company," "solar school installers near me," or "New Jersey solar developers." Once hired, these local experts will help you perform a full solar consultation, evaluation, and design planning session. This way, you can quickly and professionally get solar panels installed on your building.
There are several questions or concerns administrators may have before installing solar panels for schools New Jersey. First off, consider how solar would impact your building's operating costs. Next, consider how solar can improve educational opportunities and outcomes. Now, you are ready to learn about the community benefits of rooftop solar panels for K-12 schools, community colleges, and universities. At this point, familiarize yourself with the building and installation regulations, with the help of your NJ solar company. Of course, consider the basic steps required to get your panels professionally installed. Follow the points highlighted above to learn about solar panels for schools New Jersey.
Explore Solar For Your Home!