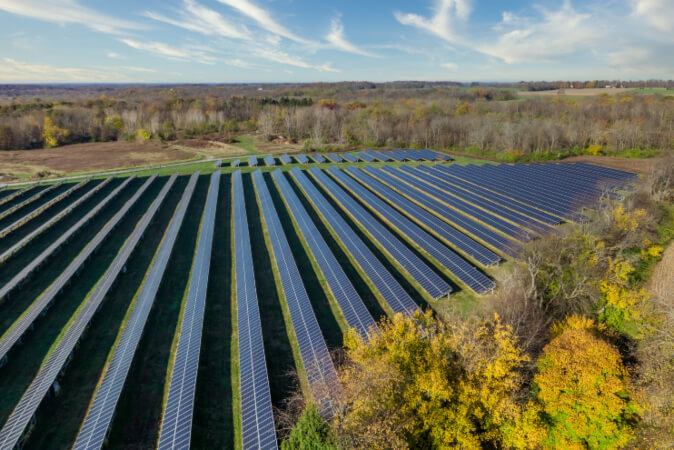 Early in President Joe Biden's administration, he set a goal to achieve 100% pollution-free electricity by 2035. This can only happen if the US dramatically scales up renewable energy production, including solar energy.
For decades, solar was too expensive for utility-scale adoption, but falling prices have changed this in recent years. Thanks to technological innovation, solar has become more reliable and efficient than ever. As costs continue to come down, more and more homeowners, businesses, and utility providers are adopting solar across the US. This, in turn, allows solar cell manufacturers to produce in bulk and lower prices even further.
Consider that in 2006, solar generated just over 500,000 megawatt-hours (MWh) of electricity, or 0.01% of the country's total energy production. In 2019, that number skyrocketed to nearly 72 million MWh—140 times more capacity in just 13 years—representing 1.74% of the total.
Government support has been a major factor in solar adoption. Billions of dollars in federal investments have helped spur solar advancements in the last decade. Even now, the federal government, along with many states and localities, continue to offer incentives that subsidize rooftop solar adoption.
But what states are most solar energy-friendly? Here's a look at the best states ranked for energy growth as of 2019 and pertinent solar incentive information for our customers in NJ, NY, and CT.
Top 5 States Producing the Most Solar Energy
California – 28.3 million MWh
North Carolina – 7.5 million MWh
Arizona – 5.3 million MWh
Nevada – 4.8 million MWh
Texas – 4.4 million MWh
Solar Incentives in NJ, NY & CT
Being solar energy-friendly isn't just about producing the most solar energy—it's also about the government incentivizing solar installations. It's true that New Jersey, New York, and Connecticut don't rank among the top five states for solar production, but residents have access to some of the best solar incentives in the country.
Renewable Energy Credits (RECs)
Net Metering
Property Tax Exemption
Sales Tax Exemption
NY-Sun Megawatt Block Program
Solar Energy System Equipment Tax Credit
State Sales Tax Exemption
Renewable Energy Credits (RECs)
Net Metering
Property and Sales Tax Exemption
Renewable energy is growing fast all over the country, and with good reason! Going solar can save you thousands of dollars on your energy bills, increase your home's value, and reduce your carbon footprint. If you live in NJ, NY, or CT, choose Infinity Energy as your solar panel installer. We offer $0-down financing options and A+ warranties. Plus, we'll help you take full advantage of solar tax credits and other incentives to make your switch to solar as cost-effective as possible.
We've already helped over 6,000 customers save with solar, and you could be next! Check out our solar calculator to see your saving potential, and explore our gallery to view some past projects. Then, contact us to learn more about the benefits of solar panels.
Explore Solar For Your Home!