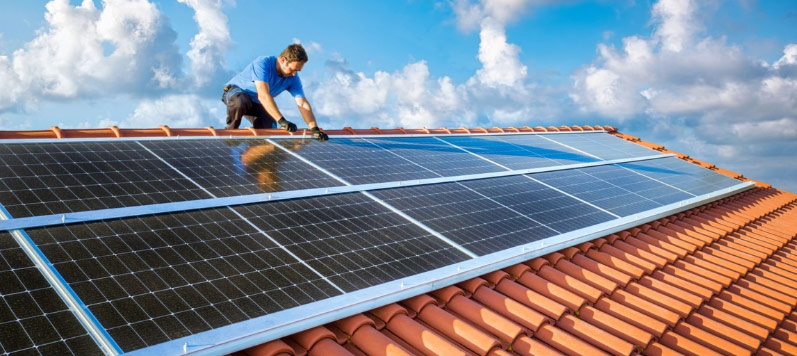 Roofing services integrated with solar systems offer a smart, sustainable, and cost-effective solution for individuals and businesses.
According to NREL, installing rooftop solar panels and replacing the roof together can cost around $30,000 on average. However, the cost of solar panel installation and roof services combined would be $25,000 on average, possibly saving households $4,000. This makes combining roofing services with solar panel installation a great eco-friendly option.
This article includes the benefits of combining solar power with roof services. If you are currently facing issues with the roof and are planning to get it repaired, this article is meant for you. Let's discover the fascinating potential of this ideal combination of roofing with solar panels, establishing the foundation for a greener, more energy-efficient future.
The Power Duo: Benefits of Combining Roofing Services with Solar Systems
Combining roofing services with solar systems has emerged as a powerful and practical way to harness the sun's energy while ensuring a strong and efficient roof. This combination not only streamlines the process of solar panel installation but also improves the efficacy, affordability, and all-around appeal of your residential or commercial space.
Combining solar installation with roof services has several advantages, some of which are listed below:
Streamlined Integration
Solar systems integrated with roofing services help you build a smooth installation procedure that effortlessly incorporates solar panels into your Roof. This eliminates any problems like leaks or structural issues and guarantees a solar system that works effectively and improves the appearance of your house.
Cost Savings
Saving money on expenses is one of the most alluring perks of this combination. Combining roof maintenance with solar installation services frequently results in lower project expenses as it eliminates the need for separate installations. Certain tax credits and incentives also help lower the solar panel installation cost. You can get an estimate for Solar Panel Installation here.
Quality Assurance
When you combine roof services with solar panels, you can be sure that a strong and dependable roof will support your solar installation. The roof-solar combination lays a solid foundation, assuring durability and sturdiness. Hence, installing solar panels with a roof is an advantage.
LifeSpan of the Roof
The installation of solar panels does not affect the Roof's structural integrity adversely, as they do not strain the top in any way. The solar panels are not big or heavy and do not move or shift in position once fitted. You can rest assured that owing to these factors, solar panels will last at least 20 years as warranted.
Time Saving
By coordinating solar installations with roof servicing, the entire project duration is shortened dramatically. Thanks to the quick process, you can begin enjoying clean energy sooner on combining Roof and solar installation. This combination of services also reduces the expense and time associated with separate installations.
Better Project Management
When you combine your solar installation and roof servicing, project management is simpler and more effective. This results in a more efficient process and comfortable experience altogether, facilitating seamless coordination and resource sharing between the two aspects of the project.
Aesthetic Value
Installing solar systems with roofing can produce a more aesthetically beautiful solar installation. The seamless integration of solar panels into the Roof will improve the aesthetics of your house as a whole. Combining the two services also helps match the solar panels to existing roof components and colors.
Energy Independence
Combining solar panel installation with roofing services, you make a huge step toward energy independence. Producing renewable energy can result in long-term energy savings and less reliance on the grid, making it a great environmental decision.
Overall, Combining roof services with solar installation enables better design, faster ROI, increased property value, cost saving, seamless integration, energy saving, and aesthetic enhancements, making it a great choice.
Pro tip: Click here if you want to know if Solar Panels save money!
Considering combining solar systems with roof services? Here are some important points
To achieve a successful and effective installation, combining roof services with solar systems necessitates careful planning and execution. You should keep a few things in mind to optimize your solar panels and roof investments to maximize the return on your investment. The following are crucial considerations to make before you combine roofing services with solar systems:
Roof Assessment
It is essential to thoroughly examine the state, age, and structural integrity of the Roof before installing solar panels. Make sure the Roof can withstand the solar panels' weight. Also, do take note of any necessary repairs or replacement requirements.
Investment Tax Credit
Check the Income Tax Credit scheme available in your state to avail rebates for solar panel installations on your Roof. Federal Tax Credit offers a federal income tax credit of up to 30%.
Many state and local governments also provide incentives for installing panels.
Pro tip: Learn about New York, New Jersey and Connecticut tax credits and incentives.
Choose Energy-Efficient Roofing Materials
Make sure the new Roof you choose is made of energy-efficient materials to improve home energy efficiency and save heating and cooling costs. Choose energy-saving roofing materials like asphalt shingle, metal, clay or concrete tiles.
Trustworthy Solar Companies
When installing solar systems, search for a reputed solar company in your location for the best installation outcomes. It is important to ensure that solar panels are properly and effectively installed in your home or for your business. For Solar panel installation and solar panel services you must choose a trustworthy solar company with a good installation experience, such as Infinity Energy.
Conclusion
Roof services combined with Solar panel installation offers several advantages such as lowered energy costs, a rise in property value, energy savings and more. A solid roof gives solar panels the best possible foundation for their efficiency and saves you money. A few professional solar companies specialize in combining roofing with solar panel installation simultaneously!
We at Infinity Energy provide professional solar panel installation services for roofs to empower communities to thrive in an eco-conscious world. Feel free to contact us for a smooth and hassle-free solar panel installation process by a professional solar company.
Explore Solar For Your Home!