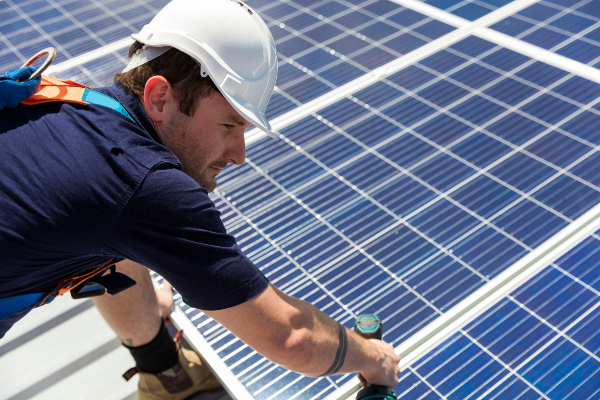 New Jersey solar contractors lay out a comprehensive plan to help NJ residents develop their rooftop projects. Working directly with solar roofing contractors ensures you obtain the best equipment to maximize your renewable energy efficiency. Whether you are looking to save on electric bills, lower energy consumption, or reduce your carbon footprint, NJ solar contractors can help you implement the ideal project. Read on to learn about how solar contractors in NJ develop rooftop projects.
Determine Solar Needs
Residential and commercial solar contractors first help you determine the energy needs for your project. Selecting and installing your solar hardware equipment is only half of your plan. Once equipment is installed, you need to identify uses for the renewable energy you store. New Jersey solar electricity is likely the most popular way to use the energy you store. This helps you offset your total energy consumption and provide a backup source of power. However, solar water heaters can additionally be used to building water or swimming pools. Any excess energy your system produces can be sold back to the grid for profits.
Solar Consultation
Once you have determined your needs for a rooftop solar system, NJ contractors offer a in-depth solar consultation. Contractors first assess the monthly energy consumption of your property to best determine your system requirements. With this information, they can create a customized rooftop solar plan based on your specific electricity needs. During your solar consultation, be sure to ask which solar incentives or rebates your property qualifies for, as well as any offered solar financing options.
Select Rooftop Panels
The next step of your solar panel installation process is to select your rooftop panels. While it seems relatively straightforward, there are many solar rooftop panel options to choose from. Most commonly, are monocrystalline, polycrysatlline, and thin film panels. Monocrystalline are the most expensive, efficient, and reliable panels, often with a lifespan surpassing 25 years. However, they are much more expensive than polycrystalline panels. These panels, on the other hand, are less efficient and consume more space. Thin firm panels are the cheapest of all panels, they have a homogeneous appearance that contributes to aesthetics. Despite this, these panels have the lowest efficiency standards, and tend to have a much shorter lifespan than other panel options.
Install Solar Hardware
Once you have planned your system requirements, New Jersey solar contractors can begin installing your solar hardware. Besides the panels themselves, you additionally need solar inverters, mounting systems, a storage option, and a monitoring software. Solar inverters convert sunlight into direct current, or DC, power. Then, inverters convert this stored DC energy into alternating current (AC) energy that can be used by buildings. You additionally need a solar racking or mounting unit to hold your equipment in place. At the same time, you need a battery or grid connection in order to store the energy that your system absorbs.
System Monitoring
The final layer of your renewable energy system consists of solar monitoring software. After you shell out the money to plan and install your solar energy system, licensed NJ contractors help you follow up on how your equipment is performing. Reliable solar monitoring software helps you to track energy consumption, recognize system performance issues, and guarantee maximum solar performance. With these systems installed you can effectively manage your sustainability and constantly track your solar emissions. A reliable solar monitoring software is the best way to guarantee your system is constantly helping you save money on your electric bills.
NJ solar contractor companies are extremely experienced in developing rooftop solar plans for New Jersey residents. The top providers for solar panel installation help clients personalize a solar plan to their energy consumption needs. Then first step in any solar plan is to determine your solar needs. Then, the top contractors provide a solar consultation along with a solar financing quote. After you are quotes, contractors can begin selecting your preferred solar panels and installing reliable solar hardware. After your system is properly installed, you can track results and maximize productivity through a reliable solar monitoring software. Consider the points mentioned above to learn about how solar contractors NJ develop rooftop projects.
Explore Solar For Your Home!